~Resilient Alliances was a pair of lecture-workshops set up against the dominant narrative of managerial and commodified present. We offer competing stories and collective tools to face up to the traumas to come~

Organised by: James Elsey, Elaine Tam, and Chiara Di Leone
Visuals by Stef Roelings and Chiara Di Leone, courtesy of the artists
Supported by the Goldsmiths Alumni and Friends Fund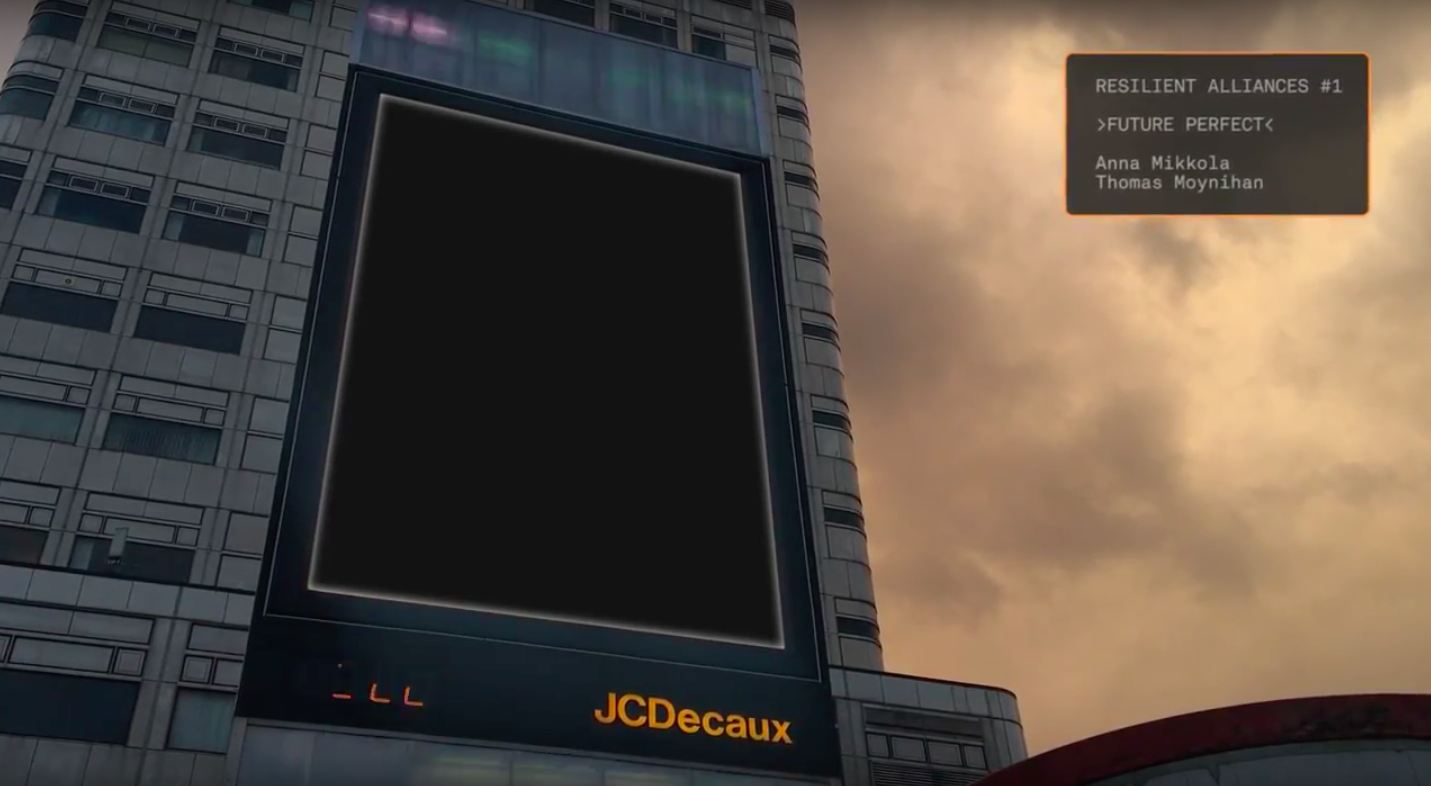 #1 FUTURE PERFECT
Tuesday 30th April 2019
18:30 - 20:30

Goldsmiths University, London
Richard Hoggart Building, Room #251

We are pleased to invite you to the lecture-workshop "Future Perfect", the first of the Resilient Alliances series. In Future Perfect, we will explore the notion of Existential Risk as seen through the lenses of history and fiction.

Speakers:

Thomas Moynihan is a researcher from the UK. He has recently gained his Ph.D. from the University of Oxford, focusing on intellectual history and existential risk. Through his work, he aims to supply a historically reflective dimension to the emerging field of 'future studies', elucidating its place within the wider history of ideas and contextualising such frontiers of inquiry within the longest-range dynamics of philosophical and cultural modernity.

Anna Mikkola is a visual artist, MFA Goldsmiths Alumna, and Somerset House Studios resident. Anna explores the ways technology, nature and culture are entangled in the process of knowledge creation. Considering that interfaces and infrastructures format lived reality, her work often materialises as videos and installations depicting narratives where different entities and points in time are woven together. The performative lecture she will present features sound design by Pekka Airaxin.

Anna and Thomas' presentations will be followed by a workshop session in which participants will form their own alliances and respond to existential threats.




#2 HERETIC ECOLOGIES
Thursday 15th May 2019
18:30 - 20:30

Goldsmiths University, London
Richard Hoggart Building, Room #356

When a whale's carcass falls deep into the ocean abyss, over time its decaying body hosts a diverse ecology of surrounding species while also birthing altogether new life. Its body is a fetid dataset for biological speculations.

We are pleased to invite you to the lecture-workshop "Heretic Ecologies", the second of the Resilient Alliances series. In Heretic Ecologies, Most Dismal Swamp and Dr. Daniel Rourke will explore the resilience of the ontological category of the "human" vis-a-vis challenges posed by temporal and species hybridity.

Speakers:

Most Dismal Swamp is an experimental art platform and record label that simulates and explores a contemporary ecology which has come to be defined by the hallucinatory entanglement of multiple logics, systems, temporalities, and realities: a mixed-reality paradigm; a pervasive, horizonless swampscape. It is a model for parsing, navigating, and elaborating a Dank Enlightenment : globally variable synaesthesia across multiple and simultaneous dimensions. Recent activities include: Swamp Protocol, Arebyte (London, 2019) and Whale Fall, Gossamer Fog (London, 2019)

Dr. Daniel Rourke is from Huddersfield, West Yorkshire, and is currently based in London having recently completed his PhD at Goldsmiths University, where he is now also lecturer and co-convener of the MA in Digital Media. In his work Daniel creates collaborative frameworks and theoretical toolsets for exploring the intersections of digital materiality, the arts, and (critical) posthumanism. These frameworks often hinge on speculative elements taken from fiction and pop culture: figures and fabulations that might offer a glimpse of a radical 'outside' to the human(ities). His writing, lecturing, and artistic profile is extensive, including work with: Arebyte Gallery (London + online, 2018), Photographer's Gallery (London 2018), AND Festival (Peak District, 2017), The V&A(London, 2017), FACT (Liverpool, 2017), Centre Pompidou (Paris, 2017), Transmediale (Berlin, 2016 + 2017), Tate Modern (London, 2016). Daniel is also a contributor to Rhizome.org and Furtherfield.org.

The event will begin with a performance-screening of 'Whale Fall' (lectio divina mix) with Most Dismal Swamp, followed by a lecture from Dr Daniel Rourke. The session will culminate in a collective writing workshop where participants conspire as groups of anonymous lifeforms.